HOW TO PICK A GOOD CAR DEALER
Car purchase can turn into a very stressful and tiresome activity, especially if you decide to buy a used vehicle. In most countries, car manufacturers can't have their own stores. That's why they need to work with car dealers who sell both new and used cars and offer various repair and maintenance services. Before you buy the desired vehicle, you should choose an honest and responsible car dealer. In this article we've shared several tips that will help you choose the right dealership and make the most accurate choices when purchasing a vehicle.
Online check
Before visiting a car dealerships in person, find out everything you can about them online. Check their website and review their car catalogue. If you've found an appropriate car, try to find out how long the dealer has been in business. Dealerships come and go, and buying cars from a well-established enterprise is always the safest bet. You need to determine whether your dealer will still be around in several years when the first car problems appear.
After you've checked the dealer's website, search for online reviews that describe their services and the cars they sell. Start from websites like J.D. Power, which contain thousands of dealership reviews, written by their customers.
You should also conduct a Google background check. Type the name of the dealership together with the words like fraud, bad service or scam into Google Search to see whether the chosen dealership has been involved in fraudulent schemes.
In the end, find the official website of the local or nationwide dealers' association and check whether your chosen dealership is listed. If you don't find the dealership on their lists, don't buy a car from them. Since every new car dealership has to apply for the auto dealer license and buy the auto dealer surety bond in order to get it, you can find the local government's business listing and check whether the dealership is listed.
Visit the dealership
Your search should start from the local dealership. If you've reviewed their car catalogue and found the vehicle that you'd like to buy, visit their car lot and walk around a bit. If a salesperson approaches you, tell them that you're just looking around and that you'll notify them if you find the car you like.
While you're there, note whether:
the dealership is run orderly and efficiently;
the dealership manager is on the premise;
customers are treated with respect.
You should also check cars' license plates. Respective dealerships have cars from other dealerships on their display. They also have franchise agreement with only one car manufacturer and their salespeople don't lean too hard on buyers and visitors.
After you've singled out several responsible dealerships, visit the lots again and try to negotiate the price for the vehicle you'd like to buy.
Confront a car salesperson?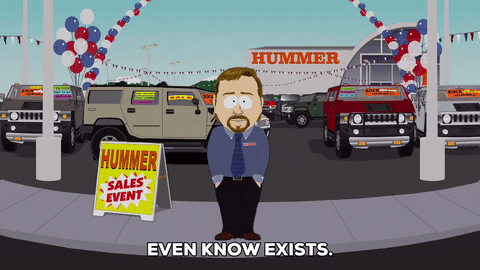 Car salespeople have a very bad reputation, and this niche has always been the inspiration for the negative movie and TV show characters. They are often depicted as greedy, like Harry Wormwood in Matilda, (played by Denny DeVito) or manipulative like the fast talking car salesman from American Graffiti, (played by John Brent).
Although Hollywood was always hard on car salespeople, they are no different from other traders who work on commission. Nature of their work requires them to present the cars in a favorable way and skillfully negotiate the appropriate price. When you find yourself in such situation, ensure you do the following:
Choose your salesperson – Inquire about salesperson's career, their previous job posts etc.
Educate yourself about the car you are planning to buy – Use the internet to learn about the desired car's characteristics, common problems, repairs and maintenance. Use your knowledge during negotiation and let the salesperson know that you've done your homework.
Be firm – Stand your ground and don't allow salesperson to take over the negotiation process.
If you are tired, come back the next day – Salespeople love buyers who crack when they get fed up with long and tiresome sales and negotiation process.
Call a professional – Invite a professional car mechanic to take the test drive with you and give you their opinion about the vehicle.
Most dealership owners and car salespeople are responsible, honest and trustworthy. They are regular business folks who are trying to earn their paycheck and feed their families. Unfortunately, there are a few bad apples in every bunch and that's why you should thoroughly check the dealership and their salespeople before you decide to purchase a car.
Add Comment
|
|
No comments.
Login to post a comment.